Course Launch Webinar: Sports Medicine Fitness Specialist
$0.00
Completely free webinar from MedFit Classroom!
MedFit Classroom is pleased to announce the launch of a new online specialization course, Sports Medicine Fitness Specialist
Join course author Naomi Albertson, MD, for this free webinar presentation to learn about this exciting new course!
During the webinar, the Dr. Albertson will:
Provide an overview of the course.
Discuss the benefits of up-leveling your education and completing this specialization.
Answer questions from live attendees.
Offer an exclusive 50% discount on the course for webinar attendees.
Course will be available for sale on MedFit Classroom immediately following the launch webinar.
This webinar was presented live on Thursday, May 26. Any offers or discounts mentioned during the recording may no longer be active.
Description
About the Course
Sports related injuries are some of the most common injuries in the United states. They are not limited to one age group, gender or ethnicity. They are seen across the board in high caliber athletics, youth leagues, gym training or the common weekend warrior. Some of these injuries are self-limiting and will heal with time PT, and RICE protocols. However, some will need medical and/or surgical intervention in the form of injections (corticosteroid or PRP/Stem Cell), Arthroscopy of the Knee, Shoulder, & Hip. According to the American academy of orthopedic surgery (AAOS), arthroscopies are some of the most performed procedures in the United States.
This course is designed to provide the participant with a thorough understanding of common sports injuries and recovery post-medical/surgical intervention with considerations in training, pre and post rehabilitation, nutrition and in some cases medication to support recovery in this population. The Sports Medicine Fitness Specialist will have a strong and confident understanding of the injury and an ability to continue the client's pre and post-surgical rehabilitation while meeting the client's heath goals. This course will also provide valuable insight and tools to further the medical fitness professionals' business and marketing goals.
About the Course Author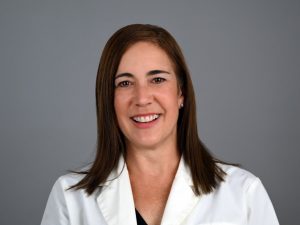 With a passion for the importance of movement and activity, Dr. Naomi Albertson, M.D. has dedicated her career in sports medicine to assessing and treating musculoskeletal injuries and motivating her patients through recovery. Whether working with children, older adults, or professional athletes, her goal is clear: to get each patient back to the activities they love, safely and injury-free.
Dr. Albertson is a graduate of Tufts University School of Medicine, fellowship-trained in sports medicine at Stanford University, and is Board Certified by the American Academy of Family Physicians. In addition to orthopedic and sports-related injuries, she specializes in assessment and management of concussion, osteoarthritis, osteopenia, osteoporosis, stress fractures and nutritional issues associated with healing.
Dr. Albertson is also the developer of Dr. Ni's OC2, a frame support supplement designed to keep bones healthy and muscles strong with age. Learn more about her at boneandmuscle.com.
Dr. Albertson is available to speak on sports injury, overuse injury and surgical indications, sports rehabilitation,
maximizing performance, the aging athlete, sarcopenia and bone health.