Launch Webinar: Adaptive Fitness Specialist
$0.00
Completely free webinar from MedFit Classroom!
MedFit Classroom is pleased to announce the launch of its newest online specialization course, Adaptive Fitness Specialist
Join two of the course authors Devon Palermo and Dr. Meaghan Minzy for this free webinar presentation to learn about this brand new specialist course.
During the webinar, the authors will:
+ Provide an overview of this new specialization course
+ Discuss the benefits of up-leveling your education and completing this specialization
+ Answer questions from live attendees
+ Offer an exclusive 50% discount on the course for webinar attendees
This webinar was presented live on May 5, 2022. Any offers or discounts mentioned may no longer be active.
Description
ABOUT THE COURSE
This course is designed to provide medical and fitness professionals the knowledge needed to safely and effectively design and implement adaptive exercise programs for individuals living with or recovering from a physical disability or disease. Clientele includes but are not limited to Stroke Survivors, Spinal Cord Injury (quadriplegics/paraplegics), Multiple Sclerosis, Guillain Barre, Transverse Myelitis, Traumatic Brain Injury, Parkinson's Disease and more.
Participants will gain an in-depth understanding of these different diagnoses including precautions, medical limitations, contraindications, best practice plans for recovery to gain functional independence, and overall health and wellness from medically stable inpatient rehab, to outpatient rehab and day program and lastly, into the continuum of care following discharge from traditional rehabilitation.
The goal is to improve the availability of qualified knowledgeable adaptive fitness professionals for this underserved population. Required reading, comprehensive courses and essay questions will be required in the final exam.
ABOUT THE COURSE AUTHORS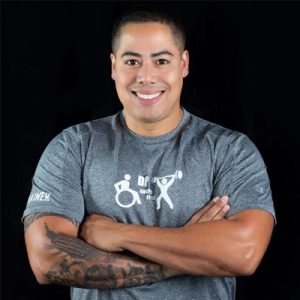 Devon Palermo attended Northern Virginia Community College and completed two Associates Degrees, Health & Wellness and Applied Science. Devon was awarded the American Physical Therapy Association Northern Virginia District Clinical Excellence Award in his final rotation as a student physical therapist assistant 2003. Devon has worked in the inpatient and outpatient rehabilitation settings at the Medstar National Rehabilitation hospital, has worked as a clinical director and rehab manager for several private practice outpatient physical therapy clinics all while maintaining and working as an Adaptive Fitness Trainer for individuals with physical disabilities.
In addition to being a licensed Physical Therapist Assistant, he also maintains several fitness certifications including ISSA Specialist in Adaptive Fitness, NESTA Certified Personal Trainer, NESTA Biomechanics Specialist, FMS Level 1 Certified, Boxing Fitness Institute certified boxing fitness trainer.
Devon is the founder and Director of DPI Adaptive Fitness, a fully accessible adaptive fitness gym for individuals living with or recovering from disability, his work has been recognized in the Washington Post, CBS News, and more. Devon is a recent finalist for PFP Trainer of the Year 2020 and MedFit Professional Magazine Pro of the Year 2020.
In his spare time, he loves spending time with his wife and two kids, working out, reading and learning, and watching sports (especially boxing).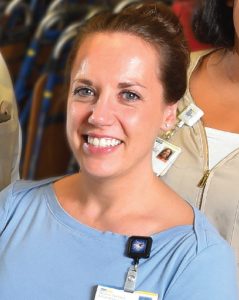 Dr. Meaghan Minzy attended physical therapy school at Boston University and has 10 years of experience as a physical therapist. She has worked at MedStar National Rehabilitation Hospital since 2010, where she is currently a senior PT.
Most of her experience and expertise is working with the Spinal Cord Injury population, but she also has a lot of experience working with Brain Injury and Stroke populations as well. Meaghan has been an adaptive trainer for DPI since the adaptive fitness program started at NRH in August of 2014.
What she enjoys most about working in adaptive fitness is being able have an impact on individuals with disabilities at any level. These programs have a positive impact on individuals throughout all stages of their recovery for health, function, and overall quality of life. It is very rewarding to be part of that process.
Meaghan also loves to run and has ran 8 marathons since working as a PT.
Kathleen Seward received her BA in Biology from LaSalle University in 2003 and her Doctor of Physical Therapy (DPT) from Drexel University in 2006. She has 14 years of experience in the outpatient rehab setting working with patients with various neurological injuries, diseases and disorders.
Her clinical expertise and passions are treating patients with spinal cord injury/disease and seating and positioning.  Katie has served as clinic coordinator and recently transitioned to the outpatient therapy director of the Paralysis Rehabilitation and Recovery Program at NRH. She is a member of the Academy of Spinal Cord Injury Professionals (ASCIP) and completed training at the National Center of Neuromodulation for Rehabilitation.
Katie has been an advocate for adaptive fitness and joined the DPI team as an adaptive trainer in 2014.