Trauma-Informed Care for Personal Trainers
$9.95
All fitness professionals will encounter clients who have suffered through trauma, whether relative, cumulative, complex, or community-based. The trauma they experience reaches far beyond the psychological domain and into the spiritual and physical, often with lasting adverse effects. Consequently, it is imperative that all fitness professionals work from a trauma-informed lens.
In this webinar with Bradley Mallett, MA, you will learn about trauma and its impact on wellbeing and health as well as some introductory strategies to work more effectively with clients who have survived trauma.
---
MedFit Network members get free access to this webinar recording! Click here to log in to your account and go to Member Benefits > MedFit TV & Past Webinars. (If you're not yet a member, click here to learn more about MFN membership.)
---
This webinar was presented live on January 25, 2022. You are purchasing a recording. Any offers or discounts mentioned during the webinar may no longer be active.
Description
ABOUT THE PRESENTER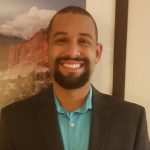 Bradley Lawrence Mallett, MA, is a Licensed Professional Counselor, EMDRIA Approved Consultant and Certified EMDRIA Therapist.
Bradley has been in the helping/mental health field since 2010 after graduating with a Bachelor's in Psychology at the University of Arizona, then his Master's Degree in Counseling at the University of Northern Colorado in 2014. After completing his Master's, he became a counselor and pursued work within mindfulness, DBT, and trauma-focused care as a way to deal with anxiety management and trauma processing. Bradley strives to help individuals and communities learn about themselves, what their own barriers are, and their strengths as a way to help bring about the change that is needed and desired.
Since becoming an EMDR certified therapist, Bradley has seen the impact of experiences throughout our lives having a massive impact on our present and future, and helped to create his passion and need for mindfulness and trauma work. He incorporates EMDR into all aspects of treatment, and not just because of its effectiveness, but also because of the philosophical concept that is able to be incorporated into all levels of treatment — from resourcing, to processing, to reprocessing events throughout their lives.
Bradley also works as a clinical therapist community support specialist to work on providing training opportunities with a focus on efficacy, resilience, and peer support, while also providing therapeutic treatment and support to individuals that are first responders, active duty, veterans, and family members within our community.