Using Cerebellar Concepts to Better Individualize Exercise: Challenging the "Little Brain" to Help the Whole Brain
$9.95
This webinar was presented live on April 13, 2021. You are purchasing a recording. You have 30 days from purchase date to download webinar.
Since every patient or client's unique combination of experiences and genetics makes them, to some extent, a "sample of one," intelligent individualization will always be the most effective way to get results in medicine, fitness training, and coaching.
When targeting the brain to reduce pain or improve cognitive or physical performance, then, how can we begin to figure out what stimulus and what dosage will best fit the training and rehabilitative needs of the "sample of one" currently asking you for help?
In this webinar, presenter Mike Golden will discuss:
The 8 key levels of the nervous system that should be considered when taking a history, running assessments, and creating a training or treatment program
Quick and easy ways to assess the cerebellum, the dense integrative center at the back and bottom of the brain that houses 80% of the brain's 100 billion neurons.
Practical ways for fitness and medical professionals to adjust the cerebellar load during exercise or rehabilitation.
The importance of immediate reassessment for determining whether a training or therapeutic stimulus had a positive, negative, or insignificant effect.
The webinar will be a combination of lecture and practical application, so active participation is encouraged.
Description
ABOUT THE PRESENTER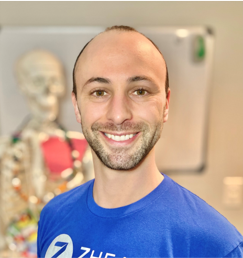 Mike Golden is the Director of Education for Z-Health Performance Solutions, a world leader in innovating advanced, neurologically-centered rehabilitative and sports performance programs based on emerging research.
Mike received his undergraduate degree from Dartmouth College in 2005 before beginning his career teaching martial arts full time and using brain-based training to fast-track his clients' pain and performance successes.
Over the course of two decades, he has relentlessly pursued professional development through the Z-Health curriculum and in the broader fields of fitness, functional neurology, and pedagogy, and he has been leading national and international certification courses for Z-Health since 2013.
---