2/28/23 Webinar | Gait Speed… Chase It!
Register before the live presentation to watch for free!
LIVE PRESENTATION:
Tuesday, February 28
10:00am PT (1:00pm ET)
If you can't watch live, all registrants will receive a recording within 24 hours of the live broadcast.**
Gait speed with sprint-like mechanics, is our freedom to GO, anywhere and anytime, with confidence and automaticity. Frequently referred to as our 6th Vital sign, a BRISK 'springy' step IS the antithesis of the 'slipper shuffle.' It is a key player in fall resistance, our ability to stay up. It provides us with a springboard for expanding our movement sphere, ripe with adventure, sport, travel and vocational opportunities.
Gait speed is #3 of my 7S Functional Training Buckets. Rethink how to fire, wire, and rewire habits, patterns and practices [including training] to enhance and preserve our GO Bucket. NEVER take the ability to walk for granted, and fight like crazy to chase speed and spring in our step for decades to come.
---
Webinar made possible by the MedFit Education Foundation. Please consider supporting our mission by donating to the Foundation.
Description
ABOUT THE PRESENTER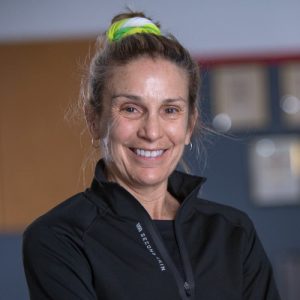 Pat brings a unique blend of education, practical experience, common sense application, science and research to her lecturing, teaching, training and coaching. She launched her professional career 40+ years ago in physical education and coaching, then spent the next 10 years in corporate-industrial fitness, health promotion, cardiac rehab and injury risk reduction programming design, implementation and management.
Since 1990, Pat expanded her services to designing and teaching personal training and group exercise certification courses, providing continuing education credits, lecturing, tutoring, executive health coaching, and authoring lay and professional articles in Asia, Australia and the U.S. The last 25+ years, she has dedicated her expertise to changing the way and the pace at which we age. Pat's rehab-to-performance experience and down-to-earth demeanor make her a dynamic, informative, inspiring, and very provocative speaker, trainer and coach.
Briana is an educator, author, and two-time CEO with an international presence. She loves spending time in nature, traveling, singing and music, and outdoor adventures.
---