12/6/22 Webinar | Meditation: The Body's Natural Chill Pill
$0.00
Register before the live presentation to watch for free!
LIVE PRESENTATION:
Tuesday, December 6
10:00am PT (1:00pm ET)
If you can't watch live, all registrants will receive a recording within 24 hours of the live broadcast.**
Do you have a mind that just won't stop?
You want to meditate, but quite honestly, you're intimidated by the word, much less the thought of actually doing it on your own. That fear, coupled with the unsureness of if you are doing it correctly halts you from bringing this powerful practice into your daily routine.
Meditation is the body's natural chill pill. Research shows meditation is far more effective than anxiety medications and anti-depressants. However, for most people either they don't see the value in bringing this ritual into their daily life or they are intimidated by not knowing "how".
What if I told you, it's simple, by learning a few techniques that can radically shift your life into calm. Join this webinar to uncover how meditation can be the antidote to feeling overwhelmed, being more creative and focused, and to improving your health.
---
Webinar made possible by the MedFit Education Foundation. Please consider supporting our mission by donating to the Foundation.
Description
ABOUT THE PRESENTER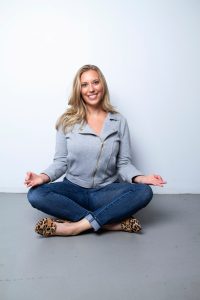 Briana Bragg is the founder of Vacation of the Mind®, a mental wellness company dedicated to helping one million people or more reduce stress, refocus the mind, and lead healthier and happier lifestyles through practical techniques of nature-centered mindfulness and meditation.
Briana is the author of Journey into Tranquility®, a meditation teacher training course that utilizes science-based methodologies of nature, meditation, and creative visualization in a three-step process Breathe, Refocus, Journey, curating guided journeys that connect people to nature and stillness.
Briana's dynamic energy and passion are fueled by her devotion to the well-being of others.
---