Type 2 Diabetes Fitness Specialist Online Course
$799.00
This educational product is an online, self-study course.
Diabetes has a profound impact on our healthcare system and can lead to comorbidities such as heart disease, stroke, high blood pressure, nerve damage, and more. Every 21 seconds someone in the US is diagnosed with diabetes, and 90-95% of those cases are Type 2 diabetes (T2D). The good news: doctors recommend diet and exercise as interventions to help those with Type 2 diabetes.  While doctors provide nutritional guidance via certified diabetes educators, and registered dieticians who study T2D and diet as interventions, there is little support on what and how to exercise and beyond 30 mins of daily exercise, like walking.
This course is designed to help fitness and healthcare professionals better understand the science, research, applications, and integrations of different types of exercise, and how they can support clients with T2D. The course will review what diabetes is, how it can damage the body, and review research and applications that provides health and fitness professionals the data to better support diabetic clients through evidence-based exercise programming. The course will also address behavior change support to provide professionals with strategies to help clients comfortably and confidently integrate exercise into their daily and weekly practice.
Course Author: Dr. Rick Richey
Course Length: 20 hours

---
MedFit Network (MFN) Membership
This course includes a free trial of a professional MFN membership. This offer is valid for new members only, and instructions for creating your MFN account will be sent after course purchase. Already a member? Existing MFN members are not eligible to receive a free trial, but do receive a discounted price on MedFit Classroom courses. Check your MFN account for details or contact ivy@medfitnetwork.org.
---
Payment plan available for purchases of $399 or more. (3-payment plan. Start for only 1/3 down at time of purchase.)
Description
Course Objectives
Defining diabetes
Understanding Type 1 versus Type 2 diabetes
Potential reasons people get diabetes
Research surrounding diabetes and exercise outcomes
Understanding hormonal changes and implications involved with exercise for the diabetic client
Develop exercise programming and goal setting for those with diabetes
Review nutritional and dietary practices that can support diabetics
Discuss the importance and the challenges of sustainable behavioral change
Lesson Overview
Module 1: Introduction and Pathophysiology

Lesson 1: Rick's Personal Story
Lesson 2: Pathophysiology
Lesson 3: No Judgments
Lesson 4: Communication with the Clinical Team

Module 2: Energy Systems
Module 3: Correlations and Contraindications

Lesson 6: Sedentary Behaviors
Lesson 7: Workplace Stress
Lesson 8: Sleep Issues and T2D, Part 1
Lesson 9: Sleep Issues and T2D, Part 2
Lesson 10: Cognition and AD

Module 4: Exercise Research

Lesson 11: Activity and Initiatives
Lesson 12: Physical Activity and Type 2 Diabetes
Lesson 13: Walking
Lesson 14: Aerobic Exercise
Lesson 15: HIIT Anaerobic
Lesson 16: Resistance Training
Lesson 17: Comparing Exercise
Lesson 18: Combined Exercises
Lesson 19: Specialty Modalities (e.g., yoga, Pilates, Tai Chi)

Module 5: Behavior Change

Lesson 20: Transtheoretical Model and Stages of Change
Lesson 21: Self-Determination Theory
Lesson 22: Attribution Theory
Lesson 23: Affective Reflective Theory
Lesson 24: Small Wins
Lesson 25: Motivational Interviewing with Angie Miller

Module 6: Exercise Applications and Programming

Lesson 26: Introduction to Exercise Applications
Lesson 27: The Business Side
Lesson 28: Cardiovascular Assessments
Lesson 29: Planning and Programming

Module 7: Nutrition

Lesson 30: Dietary Considerations
Lesson 31: Interview: Brad Dieter
Course Delivery and Assessment
This is an online course; all materials are delivered virtually. This course is delivered through video narrated slide presentations, and interviews. Comprehension of the material will be measured via a mandatory, multiple-choice item, competency assessment requiring a minimum of 80% correct responses in order to successfully pass.
System Note: We recommend students access courses using Firefox as their browser. The Google Chrome browser can automatically play all videos in a lesson at the same time, which may be an extremely annoying feature for some, and for which, at the present, there is no easy fix in the Google Chrome settings.
Prerequisites and Certificate Information
All of the online courses here on MedFit Classroom which lead to a Certificate of Specialization are considered advanced level education, and are meant to be taken by fitness professionals who have previously acquired education and experience as a professional within the health and fitness industry. In order for one to receive the Certificate of Specialization conferred upon those who purchase this Fitness Specialist Course, one must review all the content, successfully pass the comprehensive assessment, and must be able to show proof that he or she has the following:
Evidence of a bachelor's or master's degree in fitness or health related field AND/OR possess a certification from a nationally-recognized certification, NCCA or ANSI/ISO accredited program AND
Evidence of professional liability insurance.
Maintaining this Specialization and Continuing Education Credits
The completion of this specialization course, and the passing of its corresponding competency assessment, lead to a Certificate of Specialization. This Certificate of Specialization will be considered valid for a period of two years. To keep the certificate current, you must complete 10 hours of continuing education, on relevant subject matter, and formally renew the certificate prior to the date of its expiration. As with many certifications and specializations in our field, professionals should anticipate some costs to continuing education and renewal of the certificate.
MedFit Classroom CEUs
This Specialist Course provides up to 10 CEUs for other MedFit Classroom Specializations. Download our CEU chart (PDF) to find out what specializations it will provide credit CEUs for.
Continuing Education Credits
This course is approved for:
2.0 CEUs from ACE
4 CECs from canfitpro
19 CEUs from ISSA
1.9 CEUs from NASM
2.0 CEUs from NSCA
If your certifying body is not listed, you will be provided with a Certificate of Specialization upon completing the course that can be used to petition your certifying body for credit. The MedFit Classroom team is happy to assist you with petitioning your own certifying organization.
About the Course Author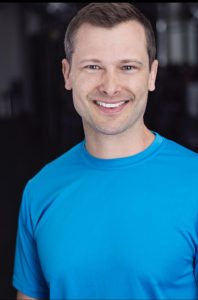 A combination of Southern charm and a passion for health and fitness education has made Rick an entertaining personality in the fitness industry. Rick Richey, DHSc, has been in the fitness industry since 2002 as a certified personal trainer, training manager, educator, orthopedic massage therapist, college and university adjunct professor, fitness industry presenter, as well as a subject matter expert and talent for fitness industry educational videos and written content.
He is the host of the NASM CPT Podcast / Webcast and formerly co-host of the Omnia Fitness Podcast with Rick and Drogo – powered by Everlast for two years. Rick is regularly used by media outlets for quotes and content regarding fitness and wellness. He has also written chapters in the National Academy of Sports Medicine (NASM) Essentials of Personal Training textbook and Corrective Exercise textbooks. He has fought competitively in the World Kickboxing and Karate Association (WKA) and has served as a course educator for the NASM MMA Conditioning Specialist and the Everlast FIT certifications. Rick was named the 2022 IDEA Fitness Personal Trainer of the Year.
Rick is the owner of Independent Training Spot, personal training gyms located NYC, and co-owner of Omnia RēCOVER, an orthopedic and stress management facility in NYC. Other fitness brands Rick is associated with creating are The Daily Move Challenge, Human Movement Science (HMS) Resources, and Omnia Wellness. Rick has performed assessments, treatment, and/or training on numerous professional athletes, artists, and performers.
Rick has a master's degree in exercise science with a focus on performance enhancement and injury prevention and a doctorate in health science and exercise leadership from CalU.