Multiple Sclerosis Fitness Specialist Online Course
$399.00
This product is an online, self-study course.
You can work with clients that suffer from multiple sclerosis to help develop strength, flexibility, balance, breathing, and improve their quality of life. In this Specialization course:
You'll learn the causes, signs, and symptoms of multiple sclerosis along with traditional treatment and management techniques.
You'll obtain a working knowledge of the anatomy and physiology affected by multiple sclerosis, and how they are used during exercise.
You'll learn to design and prescribe a proper exercise program with progression for MSers and be able to cue proper technique and body alignment.
You'll earn the title of MS Fitness Specialist.
Course Length: 10 hours.
Course Authors: CarolAnn and David Lyons
---
MedFit Network (MFN) Membership
This course includes a free trial of a professional MFN membership. This offer is valid for new members only, and instructions for creating your MFN account will be sent after course purchase. Already a member? Existing MFN members are not eligible to receive a free trial, but do receive a discounted price on MedFit Classroom courses. Check your MFN account for details or contact ivy@medfitnetwork.org.
---
Payment plan available for purchases of $399 or more. (3-payment plan. Start for only 1/3 down at time of purchase.)
Description
Course Overview
MODULE 1: Epidemiology
MODULE 2: Terminology
MODULE 3: Typology of MS
MODULE 4: Pathophysiology and Affected Anatomy
MODULE 5: Symptoms, Causes, Risk Factors, Diagnosis, and Treatments
MODULE 6: Lifestyle Management
MODULE 7: Mental Fitness and MS
MODULE 8: Exercise and MS
MODULE 9: Scope of Practice for Health and Fitness Professionals
MODULE 10: Screening, Assessments, and MS
MODULE 11: Goal Profiles, Program Design, and MS
MODULE 12: Specific Adaptations for Clients with MS
MODULE 13: Nutrition, Healthy Weight Management, and MS
MODULE 14: Health and Fitness Professional Checklist
Exercise Video Library for Clients with MS
Course Prerequisite
All of the online courses here on MedFit Classroom which lead to a Certificate of Specialization are considered advanced level education, and are meant to be taken by fitness professionals who have previously acquired education and experience as a professional within the health and fitness industry. In order for one to receive the Certificate of Specialization that is conferred upon those who purchase this MS Fitness Specialist Course, review all the content, and successfully pass the comprehensive assessment, one must be able to show proof that he or she has the following:
Evidence of a bachelor's or master's degree in fitness or health related field AND/OR possess a certification from a nationally-recognized certification, NCCA or ANSI/ISO accredited program AND
Evidence of professional liability insurance.
Course Delivery and Assessment
This is an online course; all materials are delivered virtually.
This course is delivered through a written course manual, video narrated slide presentations, videos of sample exercises, and sample forms. Comprehension of the material will be measured via a mandatory, multiple-choice item, competency assessment requiring a minimum of 80% correct responses in order to pass.
System Note: We recommend students access courses using Firefox as their browser. The Google Chrome browser can automatically play all videos in a lesson at the same time, which may be an extremely annoying feature for some, and for which, at the present, there is no easy fix in the Google Chrome settings.
Maintaining this Specialization
The completion of this Multiple Sclerosis Fitness Professional Specialization Course, and the passing of its corresponding competency assessment with a minimum score of 75%, leads to a Certificate of Specialization to work with clients who have been diagnosed with Multiple Sclerosis (MS).
This Certificate of Specialization will be considered valid for a period of two years. To keep the certificate current, you must complete 10 hours of continuing education, on relevant subject matter, and formally renew the certificate prior to the date of its expiration. As with many certifications and specializations in our field, professionals should anticipate some costs to continuing education and renewal of the certificate.
A fitness professional holding current this Certificate of Specialization is able to list himself or herself as a MS Fitness Specialist on the MedFit Network (MFN), within an active account profile. Being listed on the MFN, and having this additional qualification is a true differentiator, and one that greatly improves the chance of receiving a referral from the MFN when consumers visit the MFN web site, and are seeking a fitness professional with this specific educational background in their geographical region.
MedFit Classroom CEUs
This Specialist Course provides up to 10 CEUs for other MedFit Classroom Specializations. Download our CEU chart (PDF) to find out what specializations it will provide credit CEUs for.
Other Continuing Education Credits
This course is approved for credit by:
ACE: 0.7 CEUs
AFAA: 10 CEUs
canfitpro: 4 CECs
ISSA: 10 CEUs
NASM: 1.0 CEUs
If your certifying body is not listed, you will be provided with a Certificate of Specialization at the end of the course that can be used to petition your certifying body for credit.
About the Course Authors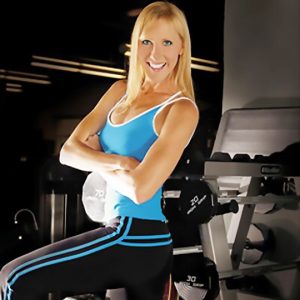 CarolAnn, MS
Known as the trainers' trainer, CarolAnn has become one of the country's leading fitness educators, authors, and national presenters. Combining a Master's degree in Exercise Science/Health Promotion with several fitness certifications/memberships such as FiTOUR, ACSM, ACE, AFAA, and LMI, she has been actively involved in the fitness industry for over 25 years.
She has executed her leadership and business skills within her career through various positions such as Wellness/Fitness Coordinator, General Manager, and Studio Owner. She specializes in teaching functional movement, pilates, yoga, TRX, HIIT, weight management, and behavior modification.  She is the creator and star of The Steel Physique Fitness on Demand series. She is a freelance health & fitness expert content provider for various companies and organizations such as eHOW.com and LiveStrong.com.  She is currently the Founder and Director of Education for Chiseled Faith, a Faith Based Health and Fitness Program for churches.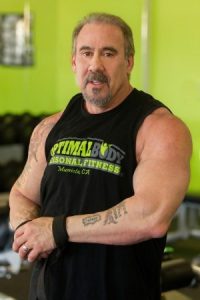 David Lyons
In 2006, David Lyons was hospitalized and diagnosed with Multiple Sclerosis at the age of 47. David, a former bodybuilder and health club owner, exercised regularly and lived a healthy lifestyle. He was devastated by the diagnosis and frustrated by the physical limitations of his condition. His initial MS attack left him with partial paralysis, tightness, pain and numbness in his extremities and back. These common symptoms of MS come and go without warning. The multiple lesions in David's spinal cord make it difficult for him to coordinate movements and they affect his balance. The lesions in his brain cause cognitive problems affecting his concentration. And the lesion by his optic nerve, at times, causes vision impairment and blackness when seeing out of his left eye. David also lives in a constant state of fatigue caused by this disease attacking his nervous system. While in the hospital the doctors told David he would most likely leave in a wheelchair and would not return to his normal workout routine. They also warned him that MS is a disease that most often progressively worsens and to prepare for his limitations as he ages.
So what does David do? Give up and sink into depression? Grab a walker to steady himself? Retreat to bed to conserve his strength? No… at the age of 50, he decided to compete in an NPC bodybuilding competition!
David knew he could not do this alone, so he assembled a team he calls The Challenge Team. David needed dedicated, talented experts on his side to make this challenge a reality. His doctors all told him that his pursuit of a bodybuilding title was sheer madness, especially at 50 years old. On August 22, 2009, David competed in his first competition where he was awarded an impressive trophy for Most Inspirational Body Builder.
David is the founder of the MS Bodybuilding Challenge and co-founder of the MS Fitness Challenge with wife Kendra. He has dedicated his life to helping people with MS understand and be educated on the importance of fitness in their lives.
He is an author and sought after motivational speaker, dedicated to helping others by sharing the lessons gained from his life experience.  His most recent book, Everyday Health & Fitness with Multiple Sclerosis was a #1 New Release on Amazon at its release.
He is the 2013 recipient of the Health Advocate of the Year Award; in 2015, he received the first ever Health Advocate Lifetime Achievement Award, and the Lifetime Fitness Inspiration Award in Feb 2016. In 2017, David received the Special Recognition Award from the National Fitness Hall of Fame.