Menopause Health and Fitness Specialist Online Course
$519.00
This product is an online, self-study course. Start and complete at your own pace.
Mid-life women comprise a rapidly growing demographic in the fitness industry and no matter what your area of expertise, you will likely be caring for women in this stage of life. Now more than ever, the medical and fitness communities are gaining knowledge and an awareness of the sometimes life-altering changes that accompany the transition from reproductive age to reproductive quiescence.
To best navigate these unique physiologic changes and their differing effects on every woman, this course delivers what you need to know to create an individualized approach to training, nutrition and wellness that will help your perimenopausal and menopausal clients thrive during this stage of life. (Scroll down to 'Description' to view full lesson plan)
Course Length: 13 hours
Course Author: Dr. Carla DiGirolamo

---
Payment plan available for purchases of $399 or more. (3-payment plan. Start for only 1/3 down at time of purchase.)
Description
Course Overview
The goal of this course is to help the learner understand the physical, emotional and psychosocial dynamics that mid-life women experience during this transition. With a solid foundation of an understanding of the mid-life experience, we can then build an understanding of the basic principles of the nutritional needs, physical training focus and mindset work that is beneficial for these women. We then discuss how to apply these basic principles to your individual clients – whether she is sedentary or whether she just won her first triathlon. Finally, we discuss how the wellness professional can build their business leveraging their distinction of expertise in caring for mid-life female clients.
Lesson Overview
Module 1: Menopause – The Basics
Lesson 1: Menopause Statistics
Lesson 2: The Female Reproductive Continuum
Lesson 3: The Menopause Experience
Lesson 4: Impact of the Menopausal Experience on Health and Wellness
Lesson 5: Premature Menopause
Module 2: Hormone Biology – From Cells to Systems to Medical Management
Lesson 6: Hormones and Receptors
Lesson 7: Female Reproductive Hormone Biology
Lesson 8: Medical Evaluation and Management of the Mid-life Woman
Module 3: Menopause Health and Physiology
Lesson 9: Bones, Tendons and Ligaments
Lesson 10: Skeletal Muscle Function and Role in Metabolism
Lesson 11: Cardiovascular Health
Lesson 12: Physiology of the Stress Response
Lesson 13: Medical Conditions Common to the Mid-life Transition
Module 4: Fitness, Nutrition and Wellness for the Mid-life
Lesson 14: Approach to Wellness Care for the Mid-life Woman – The 5 Pillars
Lesson 15: Training and Physical Activity
Lesson 16: Let's Start Training!
Lesson 17: Nutrition and Supplementation
Lesson 18: Lifestyle and Wellness
Module 5: Developing a Successful Business in the Menopause Health Space
Lesson 19: Building Your Brand
Lesson 20: Building a Community
Lesson 21: A Success Story
Course Delivery and Assessment
This is an online, self-paced course; all materials are delivered digitally. This course includes narrated slide videos, printable PDF file of the slides, self-study exercises, supplemental reading materials and references. Comprehension of the material will be measured via a mandatory competency assessment requiring a minimum of 80% correct responses.
Prerequisites
The completion of this specialization course, and the passing of its corresponding competency assessment, leads to a Certificate of Specialization. All of the online courses on MedFit Classroom which lead to a Certificate of Specialization are considered advanced level education, and are meant to be taken by fitness professionals who have previously acquired education and experience as a professional within the health and fitness industry. In order to receive the Certificate of Specialization, upon completion of this course you will be asked to provide proof of the following:
Evidence of a bachelor's or master's degree in fitness or health related field AND/OR possess a certification from a nationally-recognized certification, NCCA or ANSI/ISO accredited program AND
Evidence of professional liability insurance.
*If you do not meet the requirements for a Certificate of Specialization, you can request a Certificate of Completion.
Renewal of Specialization
This Certificate of Specialization will be considered valid for a period of two years. To keep the certificate current, you must complete 10 hours of continuing education, on relevant subject matter, and formally renew the certificate prior to the date of its expiration. As with many certifications and specializations in our field, professionals should anticipate some costs to continuing education and renewal of this certificate.
MedFit Classroom CEUs
The Menopause Health and Fitness Specialist course provides 10 CEUs toward renewal of MedFit Classroom fitness specializations.
Other Continuing Education Credits
Approved for credit by canfitpro for 4 CECs.
Approved for credit by ISSA for 8 CEUs.
Approved for credit by NASM for 1.3 CEUs.
Pending credit approval by ACE and NSCA. If you finish the course  before approval is granted, or you have a certifying body not listed, MedFit Classroom can help you petition for credit.
About the Course Author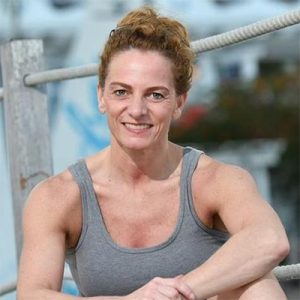 Dr. Carla DiGirolamo is a double Board-Certified Obstetrician/Gynecologist and Reproductive Endocrinologist who specializes in the care of reproductive age and mid-life women. She is a Partner at Boston IVF in Waltham, MA where she practices as a fertility specialist and menopause health consultant.
Dr. DiGirolamo completed her residency training in Obstetrics and Gynecology at Brown University Medical School/Women and Infants' Hospital and her Reproductive Endocrinology training at the Massachusetts General Hospital at Harvard Medical School. She is a North American Menopause Society (NAMS) Certified Menopause Practitioner and has been featured in multiple podcasts and speakerships at various events discussing the physiology of the hormonal changes of menopause, hormone therapy and functional fitness training.
She  has been in the fitness industry her entire life as an athlete and for the last decade as a fitness professional with credentials as a Crossfit Level 1 Trainer and Certified Nutrition Coach. She's also earned advanced instructor credentials from Les Mills for their BodyCombat and BodyPump group fitness programs. She brings fitness and nutrition expertise to every patient visit taking a holistic approach to medical management.
She has been featured in Boston Magazine's Top Doctors in the Boston area for 2019, 2020, 2021 and 2022.