Drug and Alcohol Recovery Fitness Specialist Online Course
$479.00
This product is an online, self-study course.
Substance Use Disorder affects a huge number of individuals. More than 20 million Americans are diagnosed with Substance Abuse Disorder. Research shows that exercise therapy can help be hugely beneficial to those recovering from substance use disorder and can improve long-term neurological outcomes to relapse prevention. There are physiological and psychological considerations fitness professionals must understand to design and implement successful exercise programs for this population.
This course covers the pathophysiology of Substance and Alcohol Use Disorders and comorbidities which will contribute to orthopedic, physiological, and psychological considerations when working with this population in the fitness/training setting. Upon completion of the course, students will understand how to choose appropriate assessments and create safe and effective programming to meet the unique needs of this population. Students will understand how to support their clients through the immediate recovery (post-detox) phase and in the months or years to follow as a relapse prevention strategy. Students will also acquire strategies to apply this knowledge to grow their training business in all settings (in-patient, outpatient/halfway house, community). Click here to download a full lesson overview
Course Length: 12 Hours
Course Author: Nicole Golden

---
MedFit Network (MFN) Membership
This course includes a free trial of a professional MFN membership. This offer is valid for new members only, and instructions for creating your MFN account will be sent after course purchase. Already a member? Existing MFN members are not eligible to receive a free trial, but do receive a discounted price on MedFit Classroom courses. Check your MFN account for details or contact ivy@medfitnetwork.org.
---
Payment plan available for purchases of $399 or more. (3-payment plan. Start for only 1/3 down at time of purchase.)
Description
Course Overview
Click here to download a full lesson overview
Module 1: Introduction to Substance and Alcohol Use Disorders
Module 2: Alcohol
Module 3: Opiates
Module 4: Stimulants
Module 5: The Mind Body Connection: Yoga and Meditation in the Rehabilitation Setting
Module 6: Group Fitness for the Recovery Population
Module 7: Relapse Prevention
Module 8: Business Planning and Scope of Practice
Learning Objectives
Demonstrate understanding of the pathophysiology of abuse of alcohol, opiates, and stimulants.
Demonstrate understanding of the common movement compensations which may be seen in
this population through all phases of Recovery.
Demonstrate an understanding of the nutritional considerations which may be relevant in this
population as well as how to collaborate with a Registered Dietician and physician regarding
nutrition and exercise prescription.
Demonstrate an understanding of all settings where this population may be encountered (inpatient, outpatient/halfway house, community) and how to create safe and effective
programming in all settings.
Select appropriate fitness assessments and correctly identify the frequency of when
assessments need to be conducted.
Create safe and effective programming based on the client's individual needs taking into
consideration their history of substance abuse and other co-morbidities in the personal training
setting.
Apply strategies to support their client through relapse prevention.
Apply knowledge to create a business plan to support this population.
Course Delivery and Assessment
This is an online course; all materials are delivered virtually. This course is delivered through a video narrated presentations, PDF slides, videos of sample exercises and sample forms. Comprehension of the material will be measured via a mandatory, multiple-choice item, competency assessment requiring a minimum of 80% correct responses in order to pass.
Prerequisites
The completion of this specialization course, and the passing of its corresponding competency assessment, leads to a Certificate of Specialization. All of the online courses on MedFit Classroom which lead to a Certificate of Specialization are considered advanced level education, and are meant to be taken by fitness professionals who have previously acquired education and experience as a professional within the health and fitness industry. In order to receive the Certificate of Specialization, upon completion of this course you will be asked to provide proof of the following:
Evidence of a bachelor's or master's degree in fitness or health related field AND/OR possess a certification from a nationally-recognized certification, NCCA or ANSI/ISO accredited program AND
Evidence of professional liability insurance.
*If you do not meet the requirements for a Certificate of Specialization, you can request a Certificate of Completion.
Renewal of Specialization
This Certificate of Specialization will be considered valid for a period of two years. To keep the certificate current, you must complete 10 hours of continuing education, on relevant subject matter, and formally renew the certificate prior to the date of its expiration. As with many certifications and specializations in our field, professionals should anticipate some costs to continuing education and renewal of this certificate.
MedFit Classroom CEUs
The Drug and Alcohol Recovery Fitness Specialist course provides 10 CEUs toward renewal of MedFit Classroom fitness specializations.
Other Continuing Education Credits
American Council on Exercise (ACE) to provide 1.2 CEUs.
canfitpro to provide 4 CECs.
International Sports Sciences Association (ISSA) to provide 12 CEUs.
National Academy of Sports Medicine (NASM) to provide 1.2 CEUs.
If your certifying body is not listed, you will be provided with a Certificate of Specialization at the end of the course that can be used to petition your certifying body for credit.
About the Author: Nicole Golden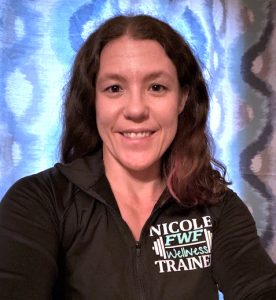 Nicole Golden has been a health/fitness professional since 2014 when she left the field of education to pursue a full-time career in fitness. Nicole holds a Master of Science degree from Concordia University Chicago in Applied Exercise Science with a concentration in Sports Nutrition. She is a NASM Master Trainer, CES, FNS, BCS, CSCS (NSCA) and AFAA certified group fitness instructor. Nicole is a sports nutritionist certified through the International Society of Sports Nutrition.
She is the owner of FWF Wellness where she specializes in corrective exercise, nutrition coaching, and training special populations. She has a great deal of experience working with a wide variety of clients including female athletes, cancer survivors, older adults with medical comorbidities, and clients who have undergone bariatric surgery. She also has a special interest in coaching clients in recovery from Substance Use Disorders. Nicole enjoys spending time with her husband and five children when she is not training clients or teaching fitness classes.