Training from Pain to Performance and Longevity
$9.95
This webinar was live broadcast on November 24, 2020. You are purchasing a recording. You have 30 days from purchase date to download.
Presented by Andy Hsieh
There's still so much grey area when we look at pain science. To summarize what we know, it's a signal from the brain to tell the body that there is an immediate threat, and we need to change whatever we are doing to prevent further harm. If the brain senses that it's always under threat, pain becomes chronic.
Chronic Pain put simply is a loop or habit that's negative to what our mind and body deem safe, if we're stuck in that loop and don't know how to get out of it, issues start arising over time.
This is the philosophy I based the majority of my movement practice on. The question is, how do we get people from chronic pain, to be pain-free with movement? Movement therapy, strength training, mindset coaching, surgery, medicine, massage, stretching, etc. All these are forms of practices that take the body out of a pain loop, the more we teach the body that it's allowed to not be in pain, we can teach it to stay out of pain for longer periods of time.
During the webinar, Andy will discuss
Breaking down pain to an easier digestible language we can present to our clients and patients
Understanding the Pain Threshold
Differences of pain tolerance in elite athletes vs. the general population and how to deal with each person
Basics of Neurology in regards to pain and pain tolerance
Understanding the concepts of Andy's "RRAMP Method", developed to help people manage pain, then progress to performance and longevity.

RRAMP = Release Tight and overactive muscles, Reset the nervous system, Activate the primal muscles that drive movement, Move the body in fundamental ways, then Play with unfamiliar movements so we can challenge the body and have fun – pain-free.
---
MedFit Network professional members receive free access to this webinar. If you're a member, click here to log in to your account and access free registration. [Not yet a member? Click here to learn more about membership]
Description
ABOUT THE PRESENTER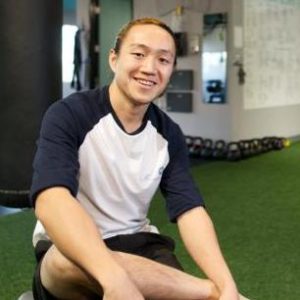 Andy Hsieh is the founder of Movement Reborn,  an Integrative Movement, Mindset and Play studio in San Diego. Andy's life long goal to live past 125 years old pain-free, continue teaching, motivating, and finding a way to bring down the worldwide obesity crisis by 20% in his lifetime. Helping people move better is the start.
Andy is a curious person that has been through a lot of pain — "bad knees", lower back L5-S1 disk degeneration from age 13, consistent neck pain, dislocated both shoulders, and overall "bad joints". It didn't stop him from consistently finding out ways to get out of pain but still be able to perform athletically in everything he wants to do.
He has spent the past 9 years networking with over 30 of the top trainers, physical therapists, doctors, healers, bodyworkers and chiropractors in the industry, attending countless workshops, certifications, and seminars. Pulling in all their best practices into his own style of training and figuring out why people are in pain and how to get rid of it.
Andy is certified as a personal trainer through ACE, NCSF, NESTA and ITEC.  He is also a ITEC Certified Sports Massage Therapist. His specialist education includes NKT lvl 3 (Neurokinetic Therapy), Stick Mobility, MovNat lvl 2 and Original Strength Pro.
---