Sports Medicine Fitness Specialist Online Course
$399.00
This product is an online, self-study course.
Sports related injuries are some of the most common injuries in the United states. They are not limited to one age group, gender or ethnicity. They are seen across the board in high caliber athletics, youth leagues, gym training or the common weekend warrior. Some of these injuries are self-limiting and will heal with time PT, and RICE protocols. However, some will need medical and/or surgical intervention in the form of injections (corticosteroid or PRP/Stem Cell), Arthroscopy of the Knee, Shoulder, & Hip. According to the American academy of orthopedic surgery (AAOS), arthroscopies are some of the most performed procedures in the United States.
This course is designed to provide the student with a thorough understanding of common sports injuries and recovery post-medical/surgical intervention with considerations in training, pre and post rehabilitation, nutrition and in some cases medication to support recovery in this population. The Sports Medicine Fitness Specialist will have a strong and confident understanding of the injury and an ability to continue the client's pre and post-surgical rehabilitation while meeting the client's heath goals. This course will also provide valuable insight and tools to further the medical fitness professionals' business and marketing goals.
Course Length: 10 hours
Course Author: Dr. Naomi Albertson, MD

---
MedFit Network (MFN) Membership
This course includes a free trial of a professional MFN membership. This offer is valid for new members only, and instructions for creating your MFN account will be sent after course purchase. Already a member? Existing MFN members are not eligible to receive a free trial, but do receive a discounted price on MedFit Classroom courses. Check your MFN account for details or contact ivy@medfitnetwork.org.
---
Payment plan available for purchases of $399 or more. (3-payment plan. Start for only 1/3 down at time of purchase.)
Description
Learning Objectives
An understanding of common traumatic and overuse injuries affecting athletes
An understanding of the treatment options and their associated risks, benefits and alternatives.
Understanding the importance of muscle retraining, neuromotor control and rehabilitation beyond basic function.
Understanding the what, why and how of writing an effective program design for pre and post knee injury and shoulder injury.
Learning effective methods to work with colleagues in the sports medicine field.
Lesson Overview
Module 1: The Basics of Sports Medicine
Lesson 1: Who Gets Injured?
Lesson 2.1: What Kind of Injuries Happen (Part 1)?
Lesson 2.2: Anatomy Review of the Shoulder Joint
Lesson 2.3: Anatomy Review of the Knee Joint
Lesson 2.4: Anatomy Review of the Hip Joint
Lesson 2.5: What Kind of Injuries Happen (Part 2)?
Lesson 3: Who Takes Care of Injured Athletes?
Lesson 4: Making The Right Diagnosis
Lesson 5: Tests
Module 2: Treatment Options – Weighing the Risks, Benefits, and Alternatives
Lesson 6: What Determines the Treatment Options?
Lesson 7: What Medical Treatments Are Available?
Lesson 8: Surgical Options and Expected Outcomes
Module 3: Why Does Exercise Matter? ​Exercise as Prehabilitation, Rehabilitation, and Performance
Lesson 9 (M3L1): Overtraining and Under-Recovery
Lesson 10 (M3L2): Nutrition
Lesson 11 (M3L3): Strength
Lesson 12 (M3L4): Special Training, Tools, and Treatments
Lesson 13 (M3L5): Performance Optimization
Lesson 14 (M3L6): Case Presentations
Module 4: Practical Application, Business and Marketing
Lesson 15 (M4L1): Practical Application, Business and Marketing
Course Delivery and Assessment
This is an online, self-paced course; all materials are delivered digitally. This course is delivered through a variety of digital mediums, including written material, video narrated slide presentations, videos of sample exercises, sample forms, and more. Comprehension of the material will be measured via a mandatory competency assessment requiring a minimum of 80% correct responses.
Prerequisites
The completion of this specialization course, and the passing of its corresponding competency assessment, leads to a Certificate of Specialization. All of the online courses on MedFit Classroom which lead to a Certificate of Specialization are considered advanced level education, and are meant to be taken by fitness professionals who have previously acquired education and experience as a professional within the health and fitness industry. In order to receive the Certificate of Specialization, upon completion of this course you will be asked to provide proof of the following:
Evidence of a bachelor's or master's degree in fitness or health related field AND/OR possess a certification from a nationally-recognized certification, NCCA or ANSI/ISO accredited program AND
Evidence of professional liability insurance.
*If you do not meet the requirements for a Certificate of Specialization, you can request a Certificate of Completion.
Renewal of Specialization
This Certificate of Specialization will be considered valid for a period of two years. To keep the certificate current, you must complete 10 hours of continuing education, on relevant subject matter, and formally renew the certificate prior to the date of its expiration. As with many certifications and specializations in our field, professionals should anticipate some costs to continuing education and renewal of this certificate.
MedFit Classroom CEUs
The Sports Medicine Fitness Specialist course provides 10 CEUs toward renewal of MedFit Classroom fitness specializations.
Other Continuing Education Credits
Approved for credit by canfitpro for 4 CECs.
Approved for credit by ISSA for 10 CEUs.
Approved for credit by NASM for 1.1 CEUs.
Pending credit approval by ACE and NSCA. If you finish the course  before approval is granted, or you have a certifying body not listed, MedFit Classroom can help you petition for credit.
About the Course Author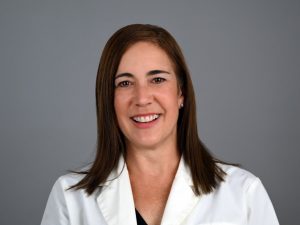 With a passion for the importance of movement and activity, Dr. Naomi Albertson, M.D. has dedicated her career in sports medicine to assessing and treating musculoskeletal injuries and motivating her patients through recovery. Whether working with children, older adults, or professional athletes, her goal is clear: to get each patient back to the activities they love, safely and injury-free.
Dr. Albertson is a graduate of Tufts University School of Medicine, fellowship-trained in sports medicine at Stanford University, and is Board Certified by the American Academy of Family Physicians. In addition to orthopedic and sports-related injuries, she specializes in assessment and management of concussion, osteoarthritis, osteopenia, osteoporosis, stress fractures and nutritional issues associated with healing. Dr. Albertson is also the developer of Dr. Ni's OC2, a frame support supplement designed to keep bones healthy and muscles strong with age.