Foundations of Medical Fitness: A Comprehensive Course for Specialists
$799.00
This product is an online, self-study course.
Do you consider yourself a specialist in the health and fitness industry? Are you interested in becoming a Medical Fitness Specialist, and earning a certificate of specialization, but you don't know where to start, or which chronic diseases or medical conditions you want to focus on? This course is for you!
This 20-hour online course is for fitness and health professionals who want to learn how to use exercise as medicine with clients who suffer from one or more chronic diseases including, but not limited to, cardiovascular, pulmonary, metabolic, or orthopedic dysfunctions. With the information found in this course you, as a Medical Fitness Specialist, will learn to assist in the prevention and/or management of numerous chronic diseases, and collaborate with clinicians.
Course Author: J. Daniel Mikeska, DHSc.

---
MedFit Network (MFN) Membership
This course includes a free trial of a professional MFN membership. This offer is valid for new members only, and instructions for creating your MFN account will be sent after course purchase. Already a member? Existing MFN members are not eligible to receive a free trial, but do receive a discounted price on MedFit Classroom courses. Check your MFN account for details or contact ivy@medfitnetwork.org.
---
3-payment plan available for this course. Pay only 1/3 down to start. Select "payment plan" option at check-out.
Description
Course Prerequisite
All of the online courses here on MedFit Classroom which lead to a Certificate of Specialization are considered advanced level education, and are meant to be taken by fitness professionals who have previously acquired education and experience as a professional within the health and fitness industry.
In order for one to receive the Certificate of Specialization that is conferred upon those who purchase this Medical Fitness Specialist course, review all the content, and successfully pass the competency assessment, one must be able to show proof that they have the following*:
Evidence of a bachelor's or master's degree in fitness or health related field AND/OR possess a certification from a nationally-recognized certification, NCCA or ANSI/ISO accredited program AND
Evidence of professional liability insurance; AND
Evidence of 3 years of relevant work experience.
*Any student may purchase and complete this course to receive a certificate of completion. In order to receive a Certificate of Specialization, you must meet the requirements above.
Course Overview
Prologue
Lesson 1 – Chronic Disease and the Benefits of Exercise
Lesson 2 – Scope of Practice and Health Risk
Lesson 3 – Rapport and Psychology
Lesson 4 – Postural and Movement Assessments, & Corrective Strategies
Lesson 5 – Cardiorespiratory Assessment
Lesson 6 – FITT
Lesson 7 – Coronary Heart Disease
Lesson 8 – Hypertension
Lesson 9 – COPD and Asthma
Lesson 10 – Diabetes
Lesson 11 – Hyperlipidemia
Lesson 12 – Body Composition, Overweight and Obesity
Lesson 13 – Metabolic Syndrome
Lesson 14 – Cancer
Lesson 15 – Pregnancy
Lesson 16 – Core, Balance, and Gait
Lesson 17 – Common Shoulder Dysfunctions
Lesson 18 – Common Dysfunctions of the Distal Arm
Lesson 19 – Common Hip Dysfunctions
Lesson 20 – Common Knee Dysfunctions
Lesson 21 – Common Dysfunctions of the Lower Extremity
Lesson 22 – Low Back Pain
Lesson 23 – Arthritis
Lesson 24 – Osteoporosis
Lesson 25 – Business Application
Competency Assessment
Epilogue: What To Do Next
Appendices
Course Delivery and Assessment
This is an online course; all materials are delivered virtually.
This course is delivered through a written course manual, video narrated slide presentations, videos of sample exercises, and sample forms. Comprehension of the material will be measured via a mandatory, multiple-choice item, competency assessment requiring a minimum of 80% correct responses in order to pass.
Maintaining this Specialization
The completion of this 20-hr online course, and the passing of its corresponding competency assessment with a minimum score of 80%, leads to a Certificate of Specialization to work with clients who certain chronic diseases and medical conditions.
This Certificate of Specialization will be considered valid for a period of two years, and to keep it current, you must complete ten (10) topically relevant, continuing education hours, prior to the date of its expiration, and you must formally renew the certificate. Professionals should anticipate and consider the cost of the required continuing education, as well a nominal renewal fee.
A fitness professional holding current this Certificate of Specialization is encouraged to list themselves as a Medical Fitness Specialist on the MedFit Network (MFN). Being listed on the MFN, and having this additional qualification is a true differentiator, and one that greatly improves the chance of receiving a referral from the MFN when consumers search the MFN directory in their area.
MedFit Classroom CEUs
This Specialist Course provides up to 10 CEUs for other MedFit Classroom Specializations. Download our CEU chart (PDF) to find out what specializations it will provide credit CEUs for. [Under column "Specialization Providing CEUs" look for Medical Fitness Specialist].
Continuing Education Credits
This course is approved for credit by:
American Council on Exercise (ACE) to provide 1.9 CEUs
canfitpro to provide 4 CECs.
International Sports Sciences Association (ISSA) to provide 20 CEUs.
National Academy of Sports Medicine (NASM) to provide 1.9 CEUs
If your certifying body is not listed, you will be provided with a Certificate of Specialization at the end of the course that can be used to petition your certifying body for credit.

About the Course Author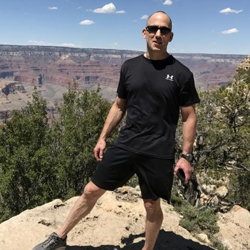 Dan Mikeska's mission is to improve population health and to increase the quality of life by connecting education, medicine, and fitness. This goal can be achieved by providing an educational pathway for fitness professionals who want to become respected members of the healthcare community, prompting clinicians to prescribe exercise, and encouraging patients to enlist the services of a qualified fitness professional.
Dan's philosophy centers on the fact that human movement is a complicated and coordinated effort between your muscles, skeleton, and metabolism, and everyone is different. Knowing how each of the systems of the bodywork, independently and in concert, is essential in the development of an effective fitness program.
In addition to a doctorate degree in Health Science and a master's degree in Human Movement, Dan has some of the most sought after certifications from The National Academy of Sports Medicine, the American Council on Exercise, the Cancer Exercise Training Institute, and the Exercise is Medicine credential from the American College of Sports Medicine.
His education and vast experience have given him the opportunity to work with notable organizations such as Life with Cancer and 2Unstoppable, as well as teach fitness and wellness classes at Northern Virginia Community College. He is currently adjunct faculty for A.T. Still University's master's of Kinesiology program, and is a member of the Industry Advisory Council for American Public University's Sports and Health Science program.