Cardiac R.E.H.A.B. Fitness Specialist Online Course
$799.00
This product is an online, self-study course.
Restore Energy, Heartiness, Aspirations & Benchmarks
Fitness professionals are an integral extension of Phase III-IV cardiac rehab programs. We coach the client to move and perform better in their game of life, beyond their cardiac history, co-morbidities and risk factors. People don't live to be safe and healthy; they live safer and healthier to live life to the fullest.
Our coaching transfers to real life outside the gym, and that's why people seek out our services. So for those with a cardiac history, our goal is to fortify their body, mind and spirit, so that they CAN live, labor, work, caregive, play and compete with confidence, competence and automaticity in their environments of choice. We bolster their buffer, boosting their protective factors, while adding purpose to living life and enhancing all aspects of well-being.
In this course, Pat VanGalen will help you fine-tune your coaching skills, due diligence practices, intake info, screening/assessments and programming systems to optimize living life for this client. You'll better understand the latest wearables in monitoring and tracking, along with networking and communicating with medical professionals.
Beyond FITT and Rx, case studies addressing common cardiac conditions, meds and co-morbidities will be presented, along with Pat's 7 S's approach to building resilience, durability and robustness for the long haul.
Course Language: English (Subtitles are not available at this time.)
Course Length: 20 hours
Course Author: Pat VanGalen, MS

---
MedFit Network (MFN) Membership
This course includes a free trial of a professional MFN membership. This offer is valid for new members only, and instructions for creating your MFN account will be sent after course purchase. Already a member? Existing MFN members are not eligible to receive a free trial, but do receive a discounted price on MedFit Classroom courses. Check your MFN account for details or contact ivy@medfitnetwork.org.
---
Payment plan available for purchases of $399 or more. (3-payment plan. Start for only 1/3 down at time of purchase.)
Description
Watch: About the Course with Author Pat VanGalen
Module Overview
Introduction / Overview / Mindset Reset
4 Is, 5 Pillars, 7 S Buckets, 3 Bs
3. The Movement Pillar
Pillars: Diet, Rhythms & Stress
Provokers, Be Aware, Aging, ACSM GETP 11th Ed Updates
Overview: CVD Risk Factors
Overweight / Obesity / Co-Morbidities
Diabetes / Co-Morbidities
Dyslipidemia / Co-Morbidities
Metabolic Syndrome [MetS]
KNOWN CVDs and Cardiac Rehabilitation Programs
KNOWN CVD Scenarios
Professionalism: Building a Well-Care Team in Your Community
Course Delivery and Assessment
This is an online, self-paced course; all materials are delivered digitally. This course is delivered through a variety of digital mediums, including written material, video narrated slide presentations, videos of sample exercises, sample forms, and more. Comprehension of the material will be measured via a mandatory competency assessment requiring a minimum of 80% correct responses.
Prerequisites
The completion of this specialization course, and the passing of its corresponding competency assessment, leads to a Certificate of Specialization. All of the online courses on MedFit Classroom which lead to a Certificate of Specialization are considered advanced level education, and are meant to be taken by fitness professionals who have previously acquired education and experience as a professional within the health and fitness industry. In order to receive the Certificate of Specialization, upon completion of this course you will be asked to provide proof of the following:
Evidence of a bachelor's or master's degree in fitness or health related field AND/OR possess a certification from a nationally-recognized certification, NCCA or ANSI/ISO accredited program AND
Evidence of professional liability insurance.
*If you do not meet the requirements for a Certificate of Specialization, you can request a Certificate of Completion.
Renewal of Specialization
This Certificate of Specialization will be considered valid for a period of two years. To keep the certificate current, you must complete 10 hours of continuing education, on relevant subject matter, and formally renew the certificate prior to the date of its expiration. As with many certifications and specializations in our field, professionals should anticipate some costs to continuing education and renewal of this certificate.
MedFit Classroom CEUs
The Cardiac R.E.H.A.B. Fitness Specialist course provides 10 CEUs toward renewal of MedFit Classroom fitness specializations.
Other Continuing Education Credits
Approved for
4 CECs by canfitpro
20 CEUs by ISSA
1.9 CEUs by NASM
This course is pending approval to provide continuing education credits from ACE and NSCA. If you finish the course before approval is granted, or you have a certifying body not listed, MedFit Classroom can help you petition for credit.
About the Course Author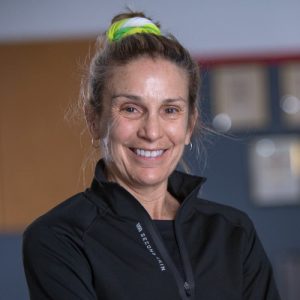 Pat VanGalen brings a unique blend of education, practical experience, common sense application, science and research to her lecturing, teaching, training and coaching. She launched her professional career 40+ years ago in physical education and coaching, then spent the next 10 years in corporate-industrial fitness, health promotion, cardiac rehab and injury risk reduction programming design, implementation and management.
Since 1990, Pat expanded her services to designing and teaching personal training and group exercise certification courses, providing continuing education credits, lecturing, tutoring, executive health coaching, and authoring lay and professional articles in Asia, Australia and the U.S. The last 25+ years, she has dedicated her expertise to changing the way and the pace at which we age. Pat's rehab-to-performance experience and down-to-earth demeanor make her a dynamic, informative, inspiring, and very provocative speaker, trainer and coach.
Pat's professional career spans the following:
Lecturer, Tutor, Provider CEC workshops and certification courses in the U.S., Asia and Australia. [35+yrs]
Personal Trainer and Lifestyle Coach [40+yrs]
Manager / developer corporate/industrial/hospital health promotion, injury reduction and fitness programs [15+yrs]
Group Instructor [40+yrs]
Teacher / Coach / Strength & Cond Coach [20+ yrs]
Education & Certifications:
ABD Functional Training in Post-Menopausal Women
M.S. Physical Education: Exercise Science/Cardiac Rehabilitation
B.S. Physical Education: Secondary/Coaching Emphasis
CFSC Certified Functional Strength Coach
FMS + FCS [Functional Movement Systems]
ACSM ETT and CPT
Network [Australia] Professional Strength Training Certification Examiner
AASFP [Asia]
LEARN / COOPER Clinic Lifestyle Counselor in Weight Management
ACE Lifestyle & Weight Consultant, Personal Trainer, Group Exercise Instructor
TRX, Slide, Spin, ++++