Adaptive Fitness Specialist Online Course
$399.00
This product is an online, self-study course.
This course is designed to provide medical and fitness professionals the knowledge needed to safely and effectively design and implement adaptive exercise programs for individuals living with or recovering from a physical disability or disease. Clientele includes but are not limited to Stroke Survivors, Spinal Cord Injury (quadriplegics/paraplegics), Multiple Sclerosis, Guillain Barre, Transverse Myelitis, Traumatic Brain Injury, Parkinson's Disease and more.
Participants will gain an in-depth understanding of these different diagnoses including precautions, medical limitations, contraindications, best practice plans for recovery to gain functional independence, and overall health and wellness from medically stable inpatient rehab, to outpatient rehab and day program and lastly, into the continuum of care following discharge from traditional rehabilitation.
The goal is to improve the availability of qualified knowledgeable adaptive fitness professionals for this underserved population.
Course Length: 10 hours
Course Authors: Devon Palermo, LPTA, CPT; Meaghan Minzy, PT, DPT; and Kathleen Seward, PT, DPT.

---
MedFit Network (MFN) Membership
This course includes a free trial of a professional MFN membership. This offer is valid for new members only, and instructions for creating your MFN account will be sent after course purchase. Already a member? Existing MFN members are not eligible to receive a free trial, but do receive a discounted price on MedFit Classroom courses. Check your MFN account for details or contact ivy@medfitnetwork.org.
---
Payment plan available for purchases of $399 or more. (3-payment plan. Start for only 1/3 down at time of purchase.)
Description
Course Objectives
Understand what Adaptive Fitness is and who it benefits.
Recognize most common physical disabilities seen in adaptive fitness.
Examine and understand the following diagnoses: Stroke, SCI/D, TBI
Recognize the precautions, medical limitations, contraindications as well as the benefits for many diagnosis including Stroke, SCI/D, TBI.
Understand the progression of rehabilitation from Inpatient to outpatient physical therapy and ultimately to community adaptive fitness and how you play a role as an adaptive fitness specialist.
Recognize the importance of the therapist/trainer model to maximize outcomes for clients.
Identify appropriate and safe adaptive environment for your clientele.
Examine appropriate adaptive exercise equipment and accessories for all diagnosis.
Recognize safe available resources for adaptive fitness and adaptive sports options.
Identify safe guarding, and safe transfer techniques.
Learn adaptive options for safe and effective exercises to use in your individual adaptive program design.
Identify and learn options for adaptive exercises to implement a safe and effective adaptive fitness program focused on neural recovery.
Design a safe and effective small group adaptive fitness program (up to 10 participants).
Design a safe and effective large group adaptive fitness program (10+).
Lesson Overview
Module 1: What is Adaptive Fitness?
Lesson 1: What is Adaptive Fitness?
Lesson 2: What are the Benefits of Adaptive Fitness?
Lesson 3: Who Can Benefit From Adaptive Fitness?
Lesson 4: What Are the Risks Associated With an Adaptive Fitness Program?
Module 2: Common Diagnosis in an Adaptive Fitness Setting
Lesson 5: Common diagnosis in an adaptive fitness setting
Lesson 6: Spina Bifida
Lesson 7: Multiple Sclerosis
Lesson 8: Transverse Myelitis
Lesson 9: Stroke
Lesson 10: Traumatic Brain Injury
Lesson 11: Spinal Cord Injury
Lesson 12: Cerebral Palsy
Lesson 13: Parkinson's Disease
Lesson 14: Caregiver/Spouse Experience Video
Module 3: Identifying a Safe Adaptive Fitness Environment
Lesson 15: Identifying a Safe Adaptive Fitness Environment
Lesson 16: Identifying Safe Adaptive Fitness Equipment
Lesson 17: Identifying Safe Adaptive Fitness Accessories
Lesson 18: Identifying Safe Adaptive Fitness Trainers
Lesson 19: Identifying Adaptive Fitness and Recreation Resources
Lesson 20: A Medical Professionals Experience With Adaptive Fitness
Module 4: Progressions-Inpatient and Outpatient Physical Therapy
Lesson 21: Inpatient Rehabilitation
Lesson 22: Inpatient Rehabilitation Treatment
Lesson 23: Outpatient Rehabilitation
Lesson 24: Outpatient Rehabilitation Treatment
Lesson 25: A Medical Professionals Experience With Adaptive Fitness
Module 5: Next Steps… Adaptive Fitness
Lesson 26: Adaptive Fitness Assessment and Programming
Lesson 27: Transfers & Guarding
Module 6: Adaptive Fitness for Health and Wellness
Lesson 28: Postural Programming
Lesson 29: Stamina/Endurance Programming
Lesson 30: Strength for Functional Ability
Lesson 31: Adaptive Fitness for Health & Wellness
Module 7: Adaptive Fitness for Neuro Recovery
Lesson 32: Adaptive Fitness for Neuro Recovery
Lesson 33: Caregiver/Spouse Experience Video
Module 8: Adaptive Group Fitness
Lesson 34: Safe Programming Design for Adaptive Fitness Large Group Classes
Lesson 35: Small Group Adaptive Programming
Module 9: Virtual Adaptive Fitness
Lesson 36: Adapting Adaptive Fitness Due to Covid-19
Lesson 37: Adaptive Fitness Business Model-Fee Structure
Course Delivery and Assessment
This is an online, self-paced course; all materials are delivered digitally. This course is delivered through a variety of digital mediums, including written material, video narrated slide presentations, videos of sample exercises, sample forms, and more. Comprehension of the material will be measured via a mandatory competency assessment requiring a minimum of 80% correct responses.
Prerequisites
The completion of this specialization course, and the passing of its corresponding competency assessment, leads to a Certificate of Specialization. All of the online courses on MedFit Classroom which lead to a Certificate of Specialization are considered advanced level education, and are meant to be taken by fitness professionals who have previously acquired education and experience as a professional within the health and fitness industry. In order to receive the Certificate of Specialization, upon completion of this course you will be asked to provide proof of the following:
Evidence of a bachelor's or master's degree in fitness or health related field AND/OR possess a certification from a nationally-recognized certification, NCCA or ANSI/ISO accredited program AND
Evidence of professional liability insurance.
*If you do not meet the requirements for a Certificate of Specialization, you can request a Certificate of Completion.
Renewal of Specialization
This Certificate of Specialization will be considered valid for a period of two years. To keep the certificate current, you must complete 10 hours of continuing education, on relevant subject matter, and formally renew the certificate prior to the date of its expiration. As with many certifications and specializations in our field, professionals should anticipate some costs to continuing education and renewal of this certificate.
MedFit Classroom CEUs
The Adaptive Fitness Specialist course provides 10 CEUs toward renewal of MedFit Classroom fitness specializations.
Other Continuing Education Credits
Approved for credit by canfitpro for 4 CECs.
Approved for credit by ISSA for 10 CEUs.
Approved for credit by NASM for 1.1 CEUs.
Pending credit approval by ACE and NSCA. If you finish the course  before approval is granted, or you have a certifying body not listed, MedFit Classroom can help you petition for credit.
About the Course Authors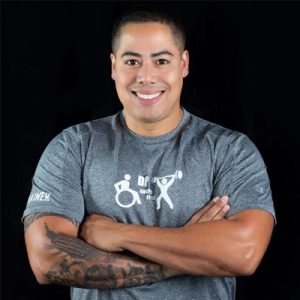 Devon Palermo attended Northern Virginia Community College and completed two Associates Degrees, Health & Wellness and Applied Science. Devon was awarded the American Physical Therapy Association Northern Virginia District Clinical Excellence Award in his final rotation as a student physical therapist assistant 2003. Devon has worked in the inpatient and outpatient rehabilitation settings at the Medstar National Rehabilitation hospital, has worked as a clinical director and rehab manager for several private practice outpatient physical therapy clinics all while maintaining and working as an Adaptive Fitness Trainer for individuals with physical disabilities.
In addition to being a licensed Physical Therapist Assistant, he also maintains several fitness certifications including ISSA Specialist in Adaptive Fitness, NESTA Certified Personal Trainer, NESTA Biomechanics Specialist, FMS Level 1 Certified, Boxing Fitness Institute certified boxing fitness trainer.
Devon is the founder and Director of DPI Adaptive Fitness, a fully accessible adaptive fitness gym for individuals living with or recovering from disability, his work has been recognized in the Washington Post, CBS News, and more. Devon is a recent finalist for PFP Trainer of the Year 2020 and MedFit Professional Magazine Pro of the Year 2020.
In his spare time, he loves spending time with his wife and two kids, working out, reading and learning, and watching sports (especially boxing).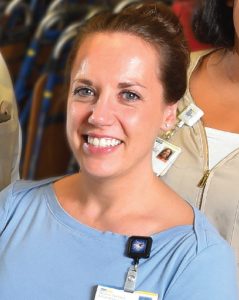 Dr. Meaghan Minzy attended physical therapy school at Boston University and has 10 years of experience as a physical therapist. She has worked at MedStar National Rehabilitation Hospital since 2010, where she is currently a senior PT.
Most of her experience and expertise is working with the Spinal Cord Injury population, but she also has a lot of experience working with Brain Injury and Stroke populations as well. Meaghan has been an adaptive trainer for DPI since the adaptive fitness program started at NRH in August of 2014.
What she enjoys most about working in adaptive fitness is being able have an impact on individuals with disabilities at any level. These programs have a positive impact on individuals throughout all stages of their recovery for health, function, and overall quality of life. It is very rewarding to be part of that process.
Meaghan also loves to run and has ran 8 marathons since working as a PT.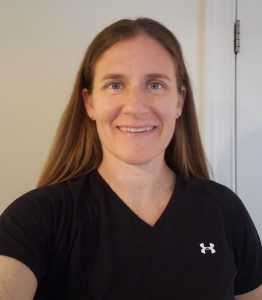 Dr. Kathleen Seward received her BA in Biology from LaSalle University in 2003 and her Doctor of Physical Therapy (DPT) from Drexel University in 2006. She has 14 years of experience in the outpatient rehab setting working with patients with various neurological injuries, diseases and disorders.
Her clinical expertise and passions are treating patients with spinal cord injury/disease and seating and positioning.  Katie has served as clinic coordinator and recently transitioned to the outpatient therapy director of the Paralysis Rehabilitation and Recovery Program at NRH. She is a member of the Academy of Spinal Cord Injury Professionals (ASCIP) and completed training at the National Center of Neuromodulation for Rehabilitation.
Katie has been an advocate for adaptive fitness and joined the DPI team as an adaptive trainer in 2014.