Free Course Launch Webinar | Menopause Health and Fitness Specialist
Completely free webinar from MedFit Classroom!
Join Menopause Health and Fitness Specialist course author Dr. Carla DiGirolamo for this free webinar presentation to learn about this exciting course!
During the webinar, the author will:
+ Provide an overview of this new specialization course
+ Discuss the benefits of up-leveling your education and completing this specialization
+ Answer questions from live attendees
This webinar was presented live on Thursday, January 26. You are viewing a recording. Any discounts mentioned during the webinar may no longer be active.
Description
ABOUT THE COURSE
Full course details: medfitclassroom.org/product/menopause-health-and-fitness-specialist/
The menopausal transition is a dynamic time in a woman's life that deserves special consideration. One of the greatest challenges that the health and wellness provider faces is the wide range of fitness levels and health issues apparent in this group of women. Mid-life women can be sedentary with multiple co-morbidities or they can be elite triathletes. As a result, each client needs a tailored approach to their wellness care. Although there is great diversity within this group, there are many common threads to the path their physiology takes. What differs is the approach and the ultimate wellness prescription for each individual client.
The goal of this course is to help the learner understand the physical, emotional and psychosocial dynamics that mid-life women experience during this transition. With a solid foundation of an understanding of the mid-life experience, we can then build an understanding of the basic principles of the nutritional needs, physical training focus and mindset work that is beneficial for these women. We then discuss how to apply these basic principles to your individual clients – whether she is sedentary or whether she just won her first triathlon. Finally, we discuss how the wellness professional can build their business leveraging their distinction of expertise in caring for mid-life female clients.
ABOUT THE COURSE AUTHOR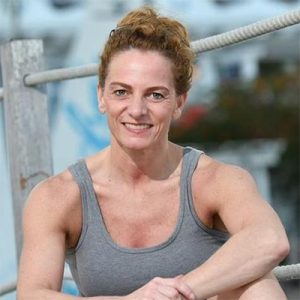 Dr. Carla DiGirolamo is a double Board-Certified Obstetrician/Gynecologist and Reproductive Endocrinologist who specializes in the care of reproductive age and mid-life women. Carla completed her residency training in Obstetrics and Gynecology at Brown University Medical School/Women and Infants' Hospital and her Reproductive Endocrinology training at the Massachusetts General Hospital at Harvard Medical School. She is a North American Menopause Society (NAMS) Certified Menopause Practitioner and has been featured in multiple podcasts and speakerships at various events discussing the physiology of the hormonal changes of menopause, hormone therapy and functional fitness training.
Carla has been in the fitness industry her entire life as an athlete and for the last decade as a fitness professional with credentials as a Crossfit Level 1 Trainer and Certified Nutrition Coach. Carla has also earned advanced instructor credentials from Les Mills for their BodyCombat and BodyPump group fitness programs. She brings fitness and nutrition expertise to every patient visit taking a holistic approach to medical management.
Dr. DiGirolamo is a Partner at Boston IVF in Waltham, MA where she practices as a fertility specialist and menopause health consultant. She has been featured in Boston Magazine's Top Doctors in the Boston area for 2019, 2020, 2021 and 2022.