Progressive and Regressive Exercises for People Living with Parkinson's Disease
$9.95
This webinar was live broadcast on May 26, 2020. You are purchasing a recording. You have 30 days from purchase date to download.
---
This webinar is part 2 of a 2-part series discussing effective program design for Parkinson's Disease. CLICK HERE to purchase the recording of part 1, "The What, Why and How to Writing an Effective Routine for Those Living with Parkinson's Disease"
Presented by Colleen Bridges
This webinar takes the foundational movements and discusses how to design your warm-up so that it reflects the strength training exercises (and boxing combos) and vice versa.
The result: clients will experience physical gains (example: standing without support, joint mobility, active core stabilization and integrated joint action) cognitive improvement and the ability to handle a chaotic moment with ease. (*This webinar includes a chart with exercises that show how to progress and regress exercises for each foundational movement.)
---
MedFit Network professional members receive free access to this recording. If you're a member, click here to log in to your account and view instructions for accessing recordings. [Not yet a member? Click here to learn more about membership]
Description
ABOUT THE PRESENTER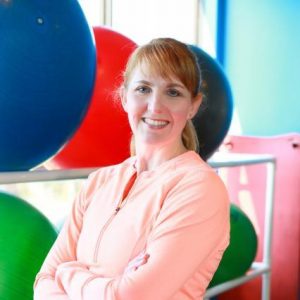 Colleen Bridges has worked for nearly 17 years as a NSCA Certified personal trainer, group exercise instructor and fitness consultant and as an independent contractor for Nashville's first personal training center, STEPS Fitness. Her passion for understanding the body in sickness and in health, and how it moves, as fed her interest in and enhanced her talent for working with senior adults, especially those living with a neurological disorder such as Parkinson's Disease.
Colleen earned a BA from Ouachita Baptist University and a M.ED from Louisiana Tech University and went on to earn certifications such as NSCA Certified Personal Trainer, "Rock Steady Boxing Certification", "Brain and Balance Certification", "Parkinson's Cycling Certification", she has attended multiple conferences offered by NSCA, IDEA and completed an internship with Dr. Irv Rubenstein in 2005. Colleen's love for special populations took a unique turn in 2016, when she began teaching "Rock Steady Boxing Music City" classes for those living with Parkinson's disease. Almost 4 years later, Colleen has two locations, 14 classes per week, 10 assistant coaches and over 120 boxers fighting against Parkinson's Disease.
Vanderbilt University Movement Disorder Clinic took notice of the improvements of their patients attending Rock Steady Boxing classes and invited Colleen to participate in a research project studying how exercise intervention affects Parkinson's Disease.
The international headquarters for Rock Steady Boxing invited Colleen to present her seminar "Effective Program Design Part 1 and 2" at the 2018 and 2019 conferences. In February of 2019, Colleen was invited to lead a certification training camp for 37 incoming Rock Steady Boxing Coaches.
With a desire to encourage, educate and empower coaches/personal trainers, Colleen created her website power4parkinsons.com which provides essential training for Rock Steady Boxing coaches and personal trainers as it pertains to working with those living with Parkinson's Disease. Colleen has leveraged her formal education, her personal training expertise and her passion for helping clients to create proprietary formulae for Rock Steady Boxing coaches/personal trainers to follow as they endeavor to help those fighting Parkinson's Disease.
---