Veganism 101: How to Eat a Plant Based Diet
$9.95
Increasing numbers of people are interested in adopting a plant-based diet, whether for health benefits or environmental or ethical concerns. However, there are practical issues of adopting a new diet that can be significant barriers.
During this webinar, Dr. Josh Cullimore will address how to deal with concerns about taste and affordability, inspiration for recipes, the social difficulties of eating with friends and family, practical difficulties when travelling or eating out, and concerns about getting enough calories or nutrients. He will discuss whether it is better to transition suddenly or gradually, whether you need to take supplements, how much protein you need (and whether animal or plant protein is better), whether carbohydrates cause obesity and how to live without cheese.
---
MedFit Network members get free access to this webinar recording! Click here to log in to your account and go to Member Benefits > MedFit TV & Past Webinars. (If you're not yet a member, click here to learn more about MFN membership.)
---
This webinar was presented live on January 18, 2022. You are purchasing a recording. Any offers or discounts mentioned during the webinar may no longer be active. 
Description
ABOUT THE PRESENTER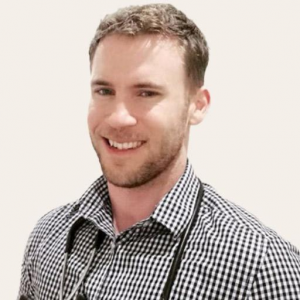 Josh Cullimore, MBChB, is Director of Preventive Medicine for the Physicians Committee for Responsible Medicine, a Washington, D.C.-based nonprofit organization dedicated to promoting preventive medicine, especially better nutrition, and higher standards in research.
As director of preventive medicine for the Physicians Committee, he focuses on research and programs that together bring plant-based nutrition to communities worldwide.
Prior to joining the Physicians Committee, Dr. Cullimore was a general practitioner who supported patients in improving their health by adopting a plant-based diet. He enjoys running, swimming, yoga, and weight training and noticed a significant increase in his athletic performance after going plant-based.
Dr. Cullimore qualified at Bristol Medical School with honors and obtained a master's in public health with distinction from Imperial College London.
He will be hosting PCRM's free online One Healthy World program, starting in January, which helps people transition to a plant-based diet.