Exercise Prescription: Integrating Services with Medical Professionals and Insurance Providers
$9.95
This webinar was live broadcast on August 13, 2019. You are purchasing a recording. You have 30 days from purchase date to download.
Presented by David Rachal III
Join David Rachal III, CEO and Chief Medical Fitness Officer of HEALTH-E-FIT in Chester, VA, to hear about his organization's journey to becoming an exclusive in-network provider of medical fitness services with Virginia Premier (and widely accepted Out of Network provider with several major health insurance companies). David will discuss how he is working with medical professionals, who refer and prescribe his medical fitness treatment plan to patients, as they work collaboratively to bridge the gap between fitness and medicine.
---
THIS WEBINAR IS FREE FOR MedFit Network (MFN) professional members. Active MFN members should CLICK HERE & log in to your MFN account; free webinar registration is available on your MFN account dashboard.
If you're not yet an MFN member and would like to learn more about membership and its benefits (including free access to MedFit Classroom webinars), click here
Description
ABOUT THE PRESENTER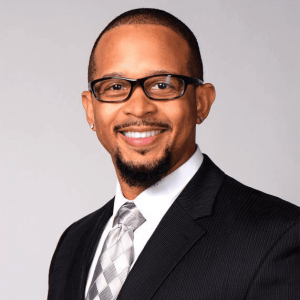 David Rachal III is the founder and CEO of HEALTH-E-FIT, a medical fitness based facility in Chester, VA, where he's created a scalable system that engages, educates, and empowers physicians and medical fitness providers to work together. His facility uses exercise and nutrition as medicine making prevention, treatment, and long-term management accessible for all.
During David's 17 year career in health and fitness, he has earned a reputation for innovative strategies and success as  Certified/Licensed Recreational Therapist, Senior Operations Manager for Bally Total Fitness, and Fitness Manager for Gold's Gym.
David's contributions to the fitness industry also include training hundreds of private clients to success and educating over 1,000 trainers in the past eight years as a Fitness Presenter/Speaker and Certification Specialist with nationally recognized organizations including the Exercise Science Alliance, Aerobics and Fitness Association of America, and National Academy of Sports Medicine. David's talents at staff recruitment & development makes him a sought after expert for private and commercial gyms. On the other hand, his military-like focus coupled with a genuine personality makes a natural with relationship building, training, and assuming the role of CEO.
David holds an MBA with a focus in Healthcare Management. He holds many specialty training certifications, including the ACSM 'Exercise is Medicine' credential, the FMS Functional Movement Specialist, and NSCA Tactical Strength and Conditioning Facilitator.